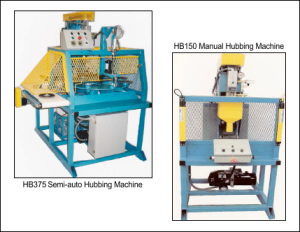 RACINE, WI, May 1, 2015 — Shakespeare Machine Stamping, a division of RC Incorporated, is a leading global supplier of high-precision, high-quality, off-the-shelf components used in the manufacturing of abrasive wheels.
Over the past few years it has become widely popular for abrasive manufacturers to sell their grinding wheels with a Zinc Flange bonded to them so that the end customer can easily setup the grinding wheel to the machines intended to run them. As known by many within the abrasive industry, Shakespeare Machine is a leading global supplier for the Zinc Die Casted Flanges that get bonded to millions of grinding wheels on an annual basis. This past year, Shakespeare Machine has launched two new machines that aid in the manufacturing process of bonding the grinding wheel to the Zinc Flanges. These machines are known as the HB300 Semi-auto Hubbing Machine and the HB150 Manual Hubbing Machine.
Within a year of its introduction, the HB300 Semi-auto Hubbing Machine has been upgraded to increase hourly output of finished product. The HB300 had capabilities of up to 500 pieces an hour with just under an eight second cycle time. Although innovative and efficient, Shakespeare has been able to cut the cycle time in half, clocking in at 3.75 seconds per cycle. Although product, operator speed, and the working hour can vary the output, this gives customers the ability to produce up to 1000 pieces per hour! The replacement model for the HB300 Hubbing Machine is known as the HB375 Semi-auto Hubbing Machine and is available to order worldwide as of today. Since every machine is built to order, Shakespeare can customize to your company's needs and deliver within approximately 6-10 weeks.
If interested in Shakespeare's new Hubbing Machine, please contact James Haarsma at james@smsales.com today!


Shakespeare Machine Stamping
2801 S. Memorial Dr.
Racine, WI 53403
888.399.7117 | www.smsales.com
Tags
:
New Product
,
News
,
Shakespeare Machine Stamping